We Welcome You to Ajijic, Jalisco, Mexico
Ajijic, Jalisco, Mexico is a romantic 16th-century village nestled between the shores of Lake Chapala and the majestic Sierra Madre Mountains. Ajijic is an artisan haven where narrow cobblestone streets are lined with house art galleries and studios for painters, photographers, sculptors, weavers, potters and talented craftsmen. Ornate murals to beloved saints and the virgin mother adorn the streets of Ajijic. The myriad of walled estates are a constant reminder of the Spanish influence of years past and give few clues to the sprawling colonial haciendas and old Mexican casitas hidden from view. Donkeys deliver mesquite firewood and locally grown maíz to restaurant doorsteps. The clip-clop of hooves adds to the daily chorus as caballeros ride horses to work and cows graze along the lake. Locals and ex-pats alike acknowledge each other in a joyful repetition of greetings that is contagious to visitors.
---
Colorful Ajijic
Wandering the village streets is the best way to experience the mystery and charm of Ajijic, as well as its many colors. In the most unexpected places you'll find things to surprise and delight you. Flowering jacarandas pop against native palms, brightening each morning. Days and smiles are fuller as sunshine lingers longer in this part of the hemisphere.
---
Videos of Ajijic and Lake Chapala
---
The Culture of Ajijic
Ajijic is a village of artists and artisans. Art galleries, furniture making and wrought ironwork are all common professions here. Very little is done by machine in Ajijic, as the time-honored skills of the hand craftsman are passed down from one generation to the next. Many new businesses have opened in the last few years to meet the steady demand of transplants and tourists. Many locals speak fluent English and it is well understood by shopkeepers. Local supermarkets have added more "North American" products to their shelves. And, restaurant staff is usually eager to practice their English with foreigners or vice versa. Mutual respect, courtesy and patience emanate from each interaction.
Family is the most important part of life in Mexico. Children play in the streets and the village square, with pets barking behind them. Each morning you will see parents holding hands with children on the walk to school. Families share laughter outside on their steps and across balconies.
Religion, Catholicism in particular, plays a focal role in Mexican society. The church is an essential place for those milestones that bind the close-knit Mexican family. Baptisms, first communions, confirmations, weddings and funerals are marked by large celebrations. In Ajijic, it is particularly evident as many community events in this small town find their foundations in spiritual practices. Church bells ringing nearby add a familiar rhythm to the days.
---
Plaza Principale and the Malecon
Plaza Principale, the town's center, and Ajijic's Malecon are the hubs around which village life revolves. Colorful streets offering countless galleries, boutiques and restaurants cluster around these two focal points drawing travelers from around the world. On Wednesdays, locals flock to the town center for the Tianguis market, where locally grown produce, pre-made foods and unique gifts can be purchased. Two long blocks, near the plaza, are lined by stalls with jewelry, locally made leather wallets, handbags, flowers, chicken, fish and vegetables in colorful displays. Food vendors prepare aromatic options for the hungry. Every Sunday, families dance in the plaza while enjoying ice cream with smiling faces. There is always someone sitting on a park bench watching the passers-by or just basking in the sunshine.
---
More About Wonderful Ajijic, Jalisco, Mexico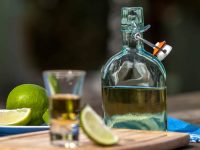 Tequila, made from blue agave plants that abound across the Mexican state of Jalisco, is used in many favorite cocktails. The abundance of fruit grown in Mexico makes fresh fruit drinks popular too. Guava, pineapple, mango, coconut and other natural flavors are readily available. Maiz is grown everywhere, to be made into corn tortillas, a staple of the Mexican diet. Seafood and South American-raised meat are featured proudly on restaurant menus. Food carts piling tacos with carnitas and sautéed vegetables command attention on street corners. Grilled corn rolled in red chiles, spices, and cotija cheese is a local treat that has been widely replicated across the world.
Mexican Neo-colonial architecture is characterized by high estate walls that hide the sprawling grounds and beautiful buildings beyond. Have you ever wanted to get a glimpse inside? Tour elaborate haciendas, lush gardens and get that last bit of inspiration needed to move to Ajijic with the Behind the Walls Tour. There is a cost to attend the tour, but proceeds benefit the School for Special Children in Ajijic.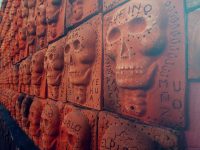 In Mexican culture, honoring life is just as important as memorializing death. Celebrations and festivals are always on the calendar whether personal, community-oriented or religious. Walking amongst colorfully decorative grave sites in the Panteon Municipal De Ajijic is a regular family activity to commune with lost loved ones, especially on Dia de los Muertos.