Looking for Ajijic weather and location information for upcoming travels? Those who travel to this paradise, on a latitude with Hawaii, can expect to want for nothing. A mere 34 miles from Guadalajara, Ajijic is positioned close enough to the big city to benefit from easy travel while feeling worlds away, and enjoys a wonderful climate year round.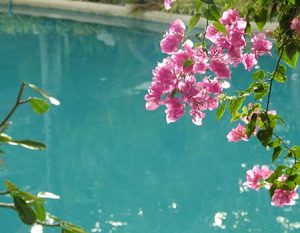 A pleasant drive up the mountainside reveals a lakeside village with a near-perfect climate, less than an hour from Guadalajara's airport. At 5,000 feet elevation, protected by surrounding mountains and Mexico's largest freshwater lake, Ajijic benefits from average daily temperatures of 72 – 75°F (22- 24°C) and enjoys sunshine even in the rainy season (June – October). The rainy season is July to October, rain falls mostly in the evenings and night, surrendering days to sunshine and a sparkling town. The region offers a semi-arid, semi-tropical climate making the hotter months not humid at all and more suited for prolonged summer days exploring. Ajijic typically experiences lows around 50°F during cooler months (December – February). This unique micro-climate produces a vibrant year-round display of flora and fauna that colors the town in a constant riot of reds, oranges, and greens.
---
Nearby Guadalajara
The second-largest city in Mexico and the capital seat of the state of Jalisco, Guadalajara, is Ajijic's sprawling urban counterpart. The historic city is dotted with colonial plazas, gold-spired churches, and neo-classical architecture. La Gran Plaza is a large air-conditioned indoor shopping mall featuring big-top and familiar stores like Sears and Fabricas de Francia. The Libertad is an expansive traditional market for cultural explorations. For finer arts, Teatro Degollado Ópera House offers symphony and opera seasons along with performances of the Ballet Folklorico. Many guests plan a day or weekend trip to take in the city before arriving in more peaceful Ajijic. A not-to-be-missed destination is Talquepaque with its boulevards of galleries, ceramics, pottery and mariachi. We are happy to arrange private day trips to the City Centre or charming Tlaquepaque.
Casa del Sol Inn is conveniently located in Ajijic, and looks forward to welcoming you to this slice of heaven. Check our availability, and join us soon.