… and learn how Ajijic is pronounced:
Ajijic pronunciation is Ah-hee-heek and originates from Nahuatl, the Aztec language. The native name, 'Axixic,' means "place where water springs forth" and commemorates the seven fresh-water wells that initially provided water to the village.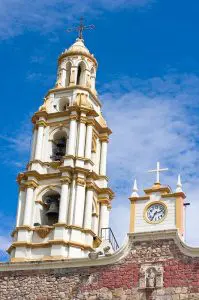 Ancient peoples inhabited the lake area and came and went as the waters rose or receded. The Huichols were one of the main tribes living in Mexico when the Spaniards landed ashore. Ironically, the town was colonized in 1531 by Spanish settlers due to its proximity and abundant sources of water. Consequently, it is one of the oldest colonial villages and convent towns in western Mexico. The convent was first established in honor of Saint Francis of Assisi, but at a later date, Saint Andrew became the patron Saint and still is to this day. The graceful 18th century Parroquia de San Andrés is dedicated to the patron saint and remains in faithful service for familial devotions and tourist admiration.
In 1925, intellectuals seeking sanctuary from religious and political persecution relocated here. Since the 1930's, many Europeans, Canadians and Americans have been coming to Lake Chapala to spend the winter months. The 1950's saw an influx of visitors and retirees finding semi-permanent living. It's hard to believe that in 1965 the village had only one telephone and horses equally shared the roadway with vehicles.
Today, Ajijic is a quaint cosmopolitan village seeped in culture and tradition yet having all the expected modern amenities. The town of 10,000 people, a quarter of whom are retired ex-pats, bustles with writers, artists, and foodies who find the history and contemporaneity of the region undeniable.
The neighborhood where Casa del Sol Inn is located was built in the mid 1970's. Please explore the inn, and join us soon for a visit to historical Ajijic.