a Boutique Ajijic Bed and Breakfast
Our Ajijic Bed and Breakfast is an oasis in the city that will delight you around every painted corridor. Attention to the simplest details and your smallest request ensures we always exceed expectations. We are proud of the amenities we offer our guests and continually strive to provide unmatchable service in Ajijic.
We're located within walking distance of Ajijic's beloved landmarks, favorite restaurants, and local boutiques. A leisurely stroll to the Ajijic Malecón on Lake Chapala will take the easily distracted tourist about 15 minutes. And, a stroll to the town center, Plaza Principale, where live music and festivals are often hosted, takes just 5 minutes.
Explore our Ajijic Bed and Breakfast
Gardened courtyards, lush corridors, and a lounging pool await beneath year-round sunny skies.Description
Each day the chef releases a new menu based on seasonal availability and current inspirations.
Casa del Sol Inn was designed with artful devotion. You will find sculptures, ceramics, photographs, and paintings throughout that have been carefully curated. During your stay we hope they enhance the ambiance and excite your curiosity. Learn more and see photos of our special pieces in our blog post, The Art at Casa del Sol.
---
Your Host, Elizabeth Shepard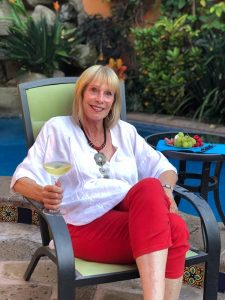 Elizabeth Shepard may be new to innkeeping but your gracious host has extensive experience in making people feel at home, relaxed, and welcome. After an extended career in commercial real estate finance in California, she moved to Ajijic to have a kinder and gentler lifestyle.
As an amateur connoisseur of wines in the Sonoma County wine region, Elizabeth knew her retirement would revolve around the opportunity to learn about Mexican wines. During many visits to Mexico she was intrigued by the wine varieties and long history of Mexican wine, especially with the guidance of a Mexican woman sommelier. Casa del Sol Inn's aesthetic value, knowledgeable staff, and growth possibilities to open a wine bar seemed to fit serendipitously.
Eventually she hopes to curate guest tours to various wine regions of Mexico. For now, you can find her warmly greeting guests with a smile or attentively adding a batch of cookies to the selection in the Hospitality Room. Her genuine enthusiasm for hospitality and Mexican culture is evident to all she welcomes.
"Elizabeth, the Innkeeper, consistently went above and beyond by always anticipating our needs, recommending activities and making arrangements for us. Her attention to details from the linens to the artwork is evidenced everywhere. I think Elizabeth is happiest when her guests are sharing her hospitality! Chef Linden provided fresh squeezed orange juice, fresh fruit and hot breakfasts every morning as well as tasty afternoon snacks. The entire Inn has beautiful common areas, swimming pool and two miradors with extensive views of the mountains and the village. Casa del Sol is in the centre of the village with easy walking distance to the plaza, good restaurants, shopping and the malicon. We hope to come back again next year." Marilyn & Duke, Alberta Canada
---
Photos & Video from Around the Property
Additional photos of amenities, pool and other offerings are found on our amenities page.
Additional photos of amenities, pool and other offerings are found on our amenities page.