Imagine a vast lake with fishermen out on the water in pangas (small boats) casting for carp. At the shoreline are snowy egrets doing their own fishing. Lights are beginning to twinkle across the shore as night draws on. Teenagers gather family members for obligatory photo opportunities at landmarks on the boardwalk. And children skip along holding tightly to glowing trinkets.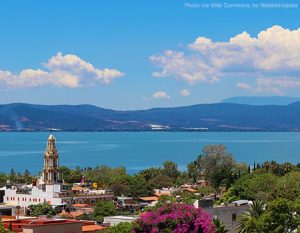 A few blocks from Ajijic's Plaza Principale is Lake Chapala, the largest lake in Mexico, approximately 50 miles long and about 20 miles at its widest point. Former presidents of Mexico have had estates here. The lake is surrounded by mountains speckled with homes along the hillside and berry farms along the shores. Glorious sunsets draw couples and crowds to the lake every evening. Along the boardwalk, handwoven blankets, leather shoes, and wall hangings show the colors and symbols central to the Mexican way of life. Women embroidering blouses and men carving wood await customers while absorbed in their lakeside crafts. Many Tapatios, locals from Guadalajara, frequent Lake Chapala for weekend trips and getaways adding to the mix of ex-pats, tourists, and locals.
Book a boat tour before dusk to enjoy pastel-painted skies over serene waters. Or, enjoy a daytime ride along the lake viewing the homes and history that line its shores.
---
Nature and the Great Outdoors in and around Ajijic
For those who love the outdoors, there is no shortage of hiking in the surrounding mountains or ways to enjoy waterfront adventure.
Many of the hikes into Ajijic's hills begin right off the main roads and range from easy to moderate to difficult. A short, easy hike to El Tepalo Falls is popular all year round. The best time to visit is right after a heavy rain when the creek swells and a series of waterfalls emerge. There's even a local hiking group that schedules regular group hikes. Take a guided tour in the mountains. https://ajijichikinggroup.com
Golf is accessible and locally available with several courses nearby. There is a 9-hole golf course on the side of a hill which brings a whole new challenge to the game! Pickle ball has gained popularity and has such found its way to several local courts. Horseback riding is a local way of life. However, even if you aren't planning to ride a horse to the store, you can spend a day exploring the town and lakeside via horseback.
The towns surrounding the lake have long found the areas water and herbs to have healing properties. Within a 15-minute drive, you can access several thermal hot springs. Experience a Mexican mud bath followed by a natural herb scrub. Then, soak in an oatmeal or even red wine bath under the Mexican sun with expansive views of the lake at Termal Cosalá. At Monte Coxala Spa, bathe in a series of pools from hottest to coolest that flow down the hillside above Lake Chapala. End your day in an infinity pool with margaritas and guacamole served poolside.
Our friendly staff at Casa del Sol Inn is eager to share favorite activities from a local perspective and can guide you to restaurants and top tourist attractions. We can also provide special private tours, like a trip to the Fortaleza Distillery, founded in 1873. Let us help you uncover the unique experiences this region is known for, check availability and join us soon!