Heavenly King Beds
Private Entrances, Balconies and More
Live like Mexican royalty in our king bedrooms that have been exquisitely appointed with your needs in mind. Intricately carved wooden headboards and elegant black wrought iron bed frames demand attention as the centerpieces to these rooms. To ensure your stay at Casa del Sol Inn exceeds expectation each room includes: locally made organic hand soap & body lotion from Bien Verde and locally made organic body gel, shampoo, and conditioner. You will also find fully-tiled walk-in showers, plush cotton robes, hairdryer, portable fans, WIFI access, 40″ flat-screen SMART TVs, local & international TV channels, streaming movies and pitchers of filtered water refilled daily.
Rm 2: La Luna
$115-137.50 USD Book Now
Enter through a shared seating area on the second floor to our king bedroom with a private balcony overlooking the town. With Eastern exposure, you will be delighted by the pink glow of our sub-tropical sunrises. Listen to the laughter from children playing on the street through your balcony doors. Aromas from the tortilleria down the street waft in. A coved red brick ceiling with black trim adds rustic sophistication against white and gray walls. An intricately designed black wrought iron headboard serves as a focal piece in the room with elegant black iron lamps poised on either side. To draw from local inspiration, this room features colorful photographs by an Ajijic-based photographer. Petate doors with straw inlay, a local design for ventilation, lead to a bright private bath. A Talavera tile backsplash of golden tiles is complemented by cool blues and warm reds to create an inviting atmosphere for unwinding after exploring Ajijic. Sleeps two.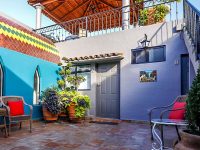 Are you traveling for a girls' weekend, a family vacation or group traveling together? Rent Rm 2: La Luna alongside Rm 1: El Sol! When rented together, La Luna's one king and El Sol's two queen beds, along with the shared courtyard area make the perfect combo for larger groups. When combined sleeps six.
Rm 5: La Chimenea
$115-137.50 USD Book Now
This room with a fireplace is just up the colorful staircase on the second floor and through a shared garden courtyard of native plants. La Chimenea feels like walking into an exquisitely restored Mexican ranch. Red brick boveda ceilings, copper walls and dark wooden pieces create a secluded refuge. The larger-than-life king bed invites guests to relax into Mexican comfort. You can count on plenty of storage with two closets and two foot-of-the-bed chests making it ideal for more extended visits. The room is also the only one to feature an en-suite bathroom with two hand-painted sinks. Terra cotta and brown tiles blend effortlessly with the warm, natural tones in the bedroom. Geometric black floor tiles add an unexpected luxurious feel while mimicking the geometric shape of the bathroom windows. Sleeps two.
Rm 6: El Jardin
$115-137.50 USD Book Now
Tucked beside the Little Cocina on the second floor is our warm and inviting El Jardin room. Hues of orange, bursts of ochre and pops of turquoise are accented by natural straw and wooden tones throughout. Views of the lush pool courtyard below and the Sierra del Tigre mountains off in the distance provide a retreat-like atmosphere. The centerpiece, a king size bed with painted wooden headboard, welcomes you to relax. Hand-painted blue and white Talavera tiles call in traditional Mexican aesthetic in a classically beautiful way. A hammered silver vanity mirror somehow still manages to standout. With easy access to the guest kitchen and balcony, this is arguably one of the best rooms at Casa del Sol Inn.  Sleeps two.
Are you visiting for a family vacation? Rent Rm 6: El Jardin and Rm 7: Las Bougainvilleas together to accommodate six people with one king, two queen beds, a shared balcony and access to the the Little Cocina (shown at right). It comes equipped with a refrigerator, convection oven and microwave. Dining table and chairs make comfortable seating to enjoy happy hour together. When combined, rooms 6 & 7 sleeps six people.