Casa del Sol Ajijic is Ready to Cater to Every Type of Morning
Here at Casa del Sol Ajijic we invite you to arise with the Ajijic sun and meander downstairs to the Sala where breakfast is served between 8am and 10am. If you have other plans in the morning, or do not wish to have breakfast, just leave us a note on your daily Breakfast Menu. If you're an early riser who's eager to explore the town, visit our Hospitality Room before heading out where you'll find pasteries, coffee, and other delights to start your day.
Guests will be delighted by indulgent options that embrace local traditions and mostly organic ingredients. The connection between food and people inspires us daily. Laughs shared with our local berry farmer during each delivery. Treasured walks to the tortilleria and talks with the smiling abuelita flipping tortillas. First tastes of Schmitty's yogurt made in town and delivered to our doorsteps weekly. The endearing Mexican culinary landscape in Ajijic adds the secret ingredients to our morning meals.
---
Beverages and Pasteries in the Hospitality Room
Patio doors of the Hospitality Room open onto our pool courtyard where morning breeze mixed with bougainvillea greets you. Inside, you'll find an assortment of teas, Nespresso, and locally roasted coffee available alongside breakfast pastries. Banana nut muffins, blueberry scones, and even croissants from a local French bakery make an appearance. Lounge with a book around our one-of-a-kind driftwood coffee table and ornately carved fireplace. Woven seating adds texture amidst red brick walls and copper terra cotta tiles. Colorful pillows crafted by third-generation artisans from Tulancingo in the State of Hidalgo draw on the rich history of Mexican textiles. Hammered silver wall motifs continue to mingle the rustic with the sophisticated in a room made for comfort and conversation.
---
Breakfast in the Sala Dining Room
We invite you to dine in the Sala for a 3-course breakfast experience. Morning light filters in through open-air slats in the ceiling onto a dining room of elegant black wrought iron and glass. Classic Casa del Sol sun motifs grace the backs of gray padded chairs around three tables to seat twelve comfortably. Toward the back of the Sala, tucked beneath the second-floor courtyard, is a raw edge parota wood table that seats eight. Larger parties can enjoy dining together family-style. Surrounding art, planted palms, and native flowers create an enlivening space to get you ready for the day.
---
What's Cookin'?
Our house-made caramel granola is a staple treat accompanied by local yogurt and fruits. Your choice of savory or sweet breakfast awaits. Each day the chef releases a new menu based on seasonal availability and current inspirations. Fluffy omelets stuffed with roasted vegetables and fluffy pancakes layered with berry compotes rotate through the kitchen. Wednesdays are even more authentic. Our staff creates a traditional Mexican breakfast inspired by family recipes and traditions. Join us for a true taste of Ajijic.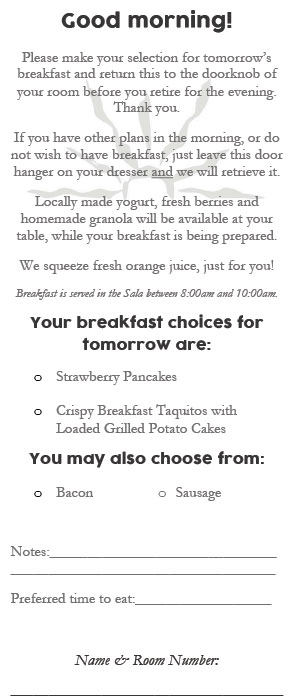 Breakfast menus are found in the main entryway. Indicate your preferences and leave for the kitchen staff to collect before the next morning. Indicate your preferred time to eat between 8am and 10am and we'll be ready for you when you arrive. Locally made yogurt, fresh berries, and homemade granola will be available at your table. We also serve freshly squeezed orange juice each day. Below is a list of some of our favorite offerings:
Specialty Pancakes Including: Pumpkin Walnut, Blueberry, Banana Nut, Caramel Apple Ring, and Lemon Ricotta
Crispy Breakfast Taquitos with Loaded Grilled Potato Cakes
Grilled Gheese Breakfast Sandwhich with Fried Egg, Caramelized Onions and Herby Parmesan Stacked Potatoes with Roasted Tomatoes
Specialty Waffles Including: Mango &Pineapple and Bacon Cheddar & Chive
Vegetable Quiche with Cheesy Potato Casserole
Roasted Mushroom and Blue Cheese Fritata
Asparagus & Roasted Tomatoe Omelette with Gratin Potatoes and Caramelized Onion
Chorizo Breakfast Quesadillas with Smashed and Smushed Potatoes
French Toast with Berries
Avocado Toast with Fried Eggs and Sweet Potato Hash with Mushrooms & Caramelized Onions
Chilaquiles with Fried Egg & Avocado and Hashbrown with Cotija and Peppers
Smoked Salmon with Chive Cream Cheese on Fresh Baked Bagel and Chive Potato Latkes
It is our pleasure to accommodate your dietary needs. Let us know of any restrictions or allergies in the menu's notes section. We will do our best to ensure you always have delicious breakfast options during your stay. Check Availability and Book Now!