$115-137.50 USD Book Now
Our private ground floor Queen bedroom is  accessed through the pool courtyard. Seafoam green walls and unique pink marbled tiles provide a calming pastel color palette. Pale pinks, yellows, blues, and greens are painted onto clay lamps and vases. Similar colors are found on the upholstered armchair and in the paintings on the wall to create a serene atmosphere. The exquisitely carved wooden headboard and side tables add depth to the room. A wooden trunk at the foot of the bed is perfect for storage and use as a luggage stand. A myriad of green hues painted throughout the bathroom and a skylight in the shower call in calm for those quiet moments needed on vacation. This poolside room was made for grabbing your robe and lounging under the Mexican sun for a few hours. Escape up the nearby painted steps to a hidden mirador with views of the lake, mountains, and eclectic town. Sleeps two.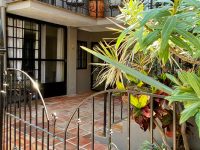 This is the only room with its own kitchenette . . . a custom-made cabinet containing a refrigerator and microwave and a wood desk makes this room ideal for longer-term stays. This room shares the shaded patio, pictured at right, with Rm 9: Las Flores, making it a perfect  option for two couples or a small family rental. When combined, the two rooms together sleep six.