Casa del Sol Inn was designed with artful devotion. You will find sculptures, ceramics, photographs, and paintings throughout that have been carefully curated. During your stay, we hope they enhance the ambiance and excite your curiosity. Learn more about the artists work we're featuring and their pieces below.
Ramiz Barquet, Mexican Sculptor from Puerto Vallarta
Often referred to as the artistic patriarch of Puerto Vallarta, Ramiz Barquet's art can be viewed throughout the city. His most famous work, "Nostalgia," of which we have a small replica, has been on the Puerto Vallarta ocean promenade since 1984. The original "La Familia/The Family" is in front of a city government office. The second interpretation of a family, "La Familia de Cuatro/The Family of Four," is installed at the Universidad de la Costa. Find several more of his sculptures scattered across the city, and these pieces below right here at Casa del Sol.
La Familia – Bronze sculpture of a family nestled in with planted native flowers to the side of the fireplace in the Sala
Guitarrista Zurdo – Bronze guitarist sculpture eternally playing on the other side of the fireplace in the Sala
La Lebanesa – A Modigliani like woman carrying a water pitcher. Ramiz Barquet was Lebanese Mexican.
Dale Evers, American-born Sculptor
Innovative American sculptor and centerpiece designer, Dale Evers, found inspiration and a foundation for his art at a foundry in Guadalajara at Art 21 Studio. Here he was able to cast expanded size ranges of his designs. The pieces at Casa del Sol are from his Zapopan Collection, named after the Zapopan area in Guadalajara where Art 21 Studio is located. His art can be viewed across California, Hawaii, and even Canada in galleries, hotels, and sculpture gardens.
Amorfius and Eschuchame – Bronze and crystal butterfly sculptures standing guard at the bar annex and the foot of the interior staircase, Zapopan Collection made in Guadalajara
Focus – Bronze archer near the interior staircase to the second floor, Zapopan Collection made in Guadalajara (not pictured)
Luis Espiridion, Mexican Artist from Guadalajara
Luis Espiridion began his art career in the 1980s after studying at Cabanas Culturas Institute. He furthered his studies throughout London, France, Greece, and Israel where he mastered bronze and silver casting techniques. He has exhibited all over Europe and Mexico. A pinnacle of his career was winning an award at the International Jewelry Exhibition in Guadalajara.
Suenos Cortados – Bronze sculpture in lobby office (not pictured)
Ingrid Mattsson, Swedish-born Sculptor
An artist in mixed media, Ingrid is also known as the matriarch of Art 21 Studio in Guadalajara. This popular studio is the foundry for many Mexican and international artists. She owns it along with her husband, Francisco Quiroz, and their son Eduardo. The artist studied in Sweden and gained experience and museums in her home country before transferring to museums in Mexico. Her sculptures can be viewed in galleries throughout Puerto Vallarta and Guadalajara.
Principio Del Oro – Flower-shaped resin sculpture found on the sideboard next to the dining room table (at right)
Michael Snodgrass, American-born Painter
Influenced by the tribal art during his years living in Santa Fe, New Mexico and California's street culture, his distinctive style is primitive and expressionist. His work uses humor to poke holes at religion and other social issues. Often compared to Jean Michel Basquiat, his style is easily evokes emotion through text on canvas and paint that is slathered on with fingers and objects opposed to just brushes. View his work on display in several galleries throughout the USA
Torero VI – painting of a bullfighter stretched onto a 42' x 32' canvas is located in the Casita Sonrisa (not pictured)
Don Quixote y Rocinante – 42' x 32' colorfully greets guest upon entering the lobby and check-in area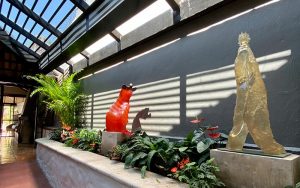 Maria Elena Jasso and Gloria Fuentes
Fuego – Fuego is an acrylic/resin and bronze sculpture by Maria Elena Jasso
Tara – Crowned acrylic resin sculpture in the Sala along the ramp to Hospitality Room by Gloria Fuentes
Bethany Putnam, American-born Photographer
Endearing snippets of Mexican culture captured by an ex-pat that has fallen in love with local life in Ajijic. Her photographs can be found hanging on several walls at Casa del Sol. La Luna, a room overlooking the town, features two colorfully framed photographs. And, the lobby restrooms are brightened by another two framed prints.